Ordinary Hero is to be Released on September 30, and Sign up for Complementary Tickets
Based on the true story of the rescue of a boy with arm broken from Hotan, Xinjiang, the Ordinary Hero focuses on ordinary heroes. It's announced to be released in theaters on September 30, the eve of National Day. Its official trailer and character poster were published. The film depicts how an urgent emergency rescue is made possible over 8 hours spanning 1,400 kilometers after a heartbreaking accident. It's a life-saving miracle created by people from all walks of life. The film is part of the "Hero" series presented by Bona Film Group Limited following The Captain and The Bravest, and the very first of the series.
A film based on true life-saving relay by ordinary people, and director Tony Chan was moved to tears by the details
The true story on which the Ordinary Hero is based took place in Hotan and Urumqi, Xinjiang. A little boy had an accident while playing, and his family tried to fly to a hospital 1,400 kilometers away within 8 golden hours for arm replantation. The last flight was the only hope left for the little boy. As the last flight was already taxiing on the runway, time seemed to have frozen in the night. Yet the countdown to saving the boy's life never stopped. At the critical moment, strangers in Xinjiang, ordinary traffic police on patrol, airport ground crew and air traffic control who were about to finish their shift, the captain and chief steward of the last flight taxiing on the runway didn't hesitate to help the family. Ordinary people like you and me stepped forward to open up a green channel for the boy, making the seemingly impossible rescue possible. Every life is worthy of all-out efforts to save. The ordinary people looked resolute, and they remained on duty to ensure the boy' survival. How did these ordinary people, who did not know each other, get the boy safely to the operating table within 8 hours and complete the life-saving relay? You may check that out in theaters on September 30.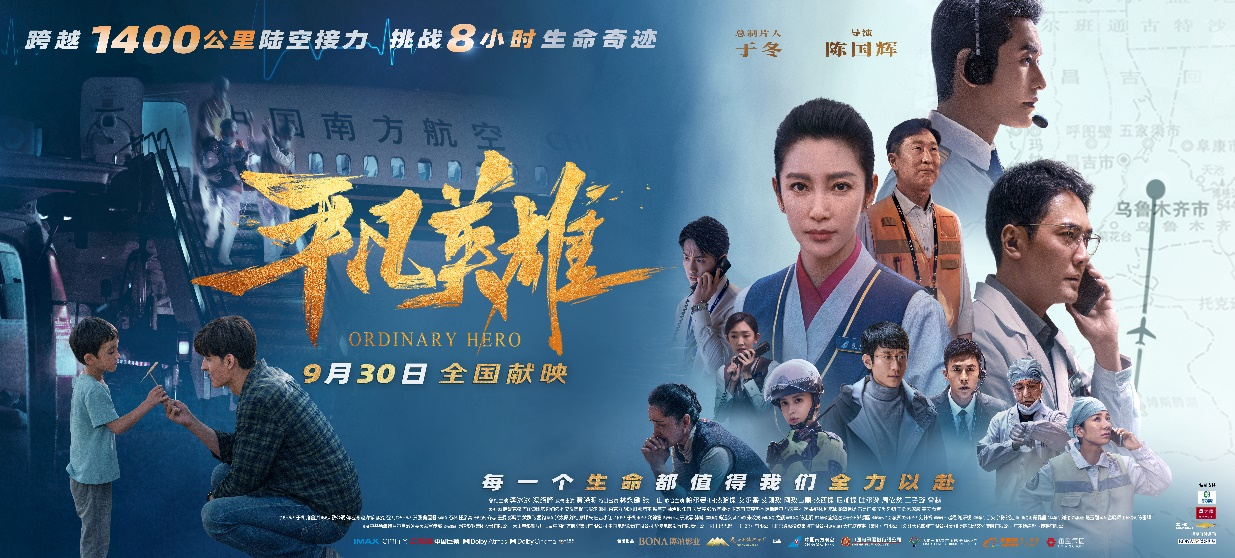 "It would have been impossible". While being interviewed, director Tony Chan said, "There was only 13 minutes left of the 8 golden hours when the boy's vessels were reattached." His life would have been threatened if without help by those ordinary people. What is particularly touching is that all the participants in the life-and-death rescue were ordinary people who stepped forward to build a life-saving fast track for the little boy in their own positions under pressure. And their good deeds extended the hope of life for the little boy, which inspired director Tony Chan to dramatize the story.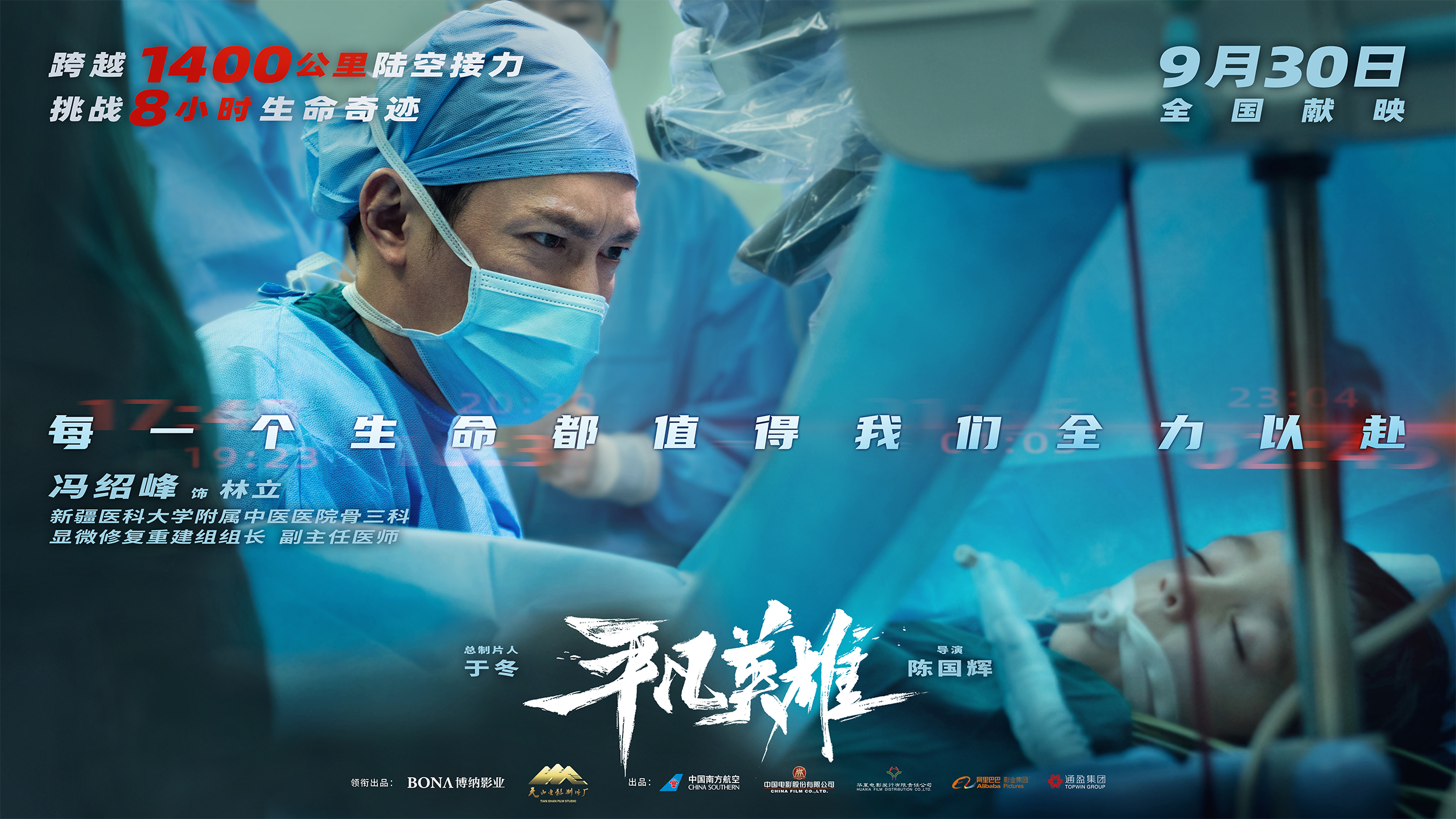 Li Bingbing and Feng Shaofeng brings life to the chief steward and doctor characters, making it a heroic blockbuster in honor of life-saving miracle by ordinary people
"Props on set were very lifelike", as Li Bingbing, who played chief steward, recalled, "They made my hair stand on end". But as chief steward, she told herself to pull herself together because the real chief steward Zhao Yan would never back down, "You have to undertake all the responsibility". Feng Shaofeng was deeply touched by the real doctor while exchanging with him, and they became friends. In Feng's view, despite their different professions, being able to play such an ordinary hero in real life, and demonstrate Doctor Li's faith, "It's very meaningful". In addition, Huang Xiaoming learned every operational detail carefully from the real captain on set, and kept practicing jargons and technical operations. He was resolute to bring life to the character with details. "The heroic captain was right there, and I performed as if I were him. The world becomes warmer thanks to people like them. I couldn't help smiling when mentioning them."
Directed by Tony Chan and written by You Xiaoying, the Ordinary Hero includes a cast led by Li Bingbing and Feng Shaofeng, guest appearance of Huang Xiaoming, special appearance of Lin Yongjian and Zhang Yishan, starring Parman Parhat, Erfan Aziz, Arzugul Reshit, Nijati Turson, Zhou Yiran, Wang Zixuan and Zeng Yue, and guest starring Hankiz Omar, Guldiyar Anayit, Aiyireti Yumaier, Bextiyar Gülnezer, Barkley, Hu Bingqing, Na Zhidong, Xi Yuli, Sun Xilun, Athena Chu Yan, Wu Haochen, Zhang Jing, Riyat Yusup, Ekrem Askar, Ma Tianyu, Du Chun, Guo Jinglin, Barna Parhat, Shi Haozheng, Zhang Zixian, Liu Jun, Wang Ting, Guo Jiahao, Huang Yi and Jia Qing. The film pays tribute to each and every ordinary hero who participated in the life-saving relay.
The film is to be released in theaters nationwide on September 30.
The BJIFF has prepared complimentary tickets for film fans for the Ordinary Hero to be opening in theaters on September 30. The giveaway event is to be posted in the BJIFF App. You may download the App and sign up for the event. The deadline for signing up is 12:00, September 30, 2022. 10 fans out of those signing up in the App will be awarded complementary tickets. The number of tickets is limited.
You may sign up for the event as follows: browse the BJIFF App, click "Bonus for Film Fans | Ordinary Hero is to be Released on September 30, and Sign up for Complementary Tickets", fill in and submit the "Registration Form", and wait for notification. If you haven't downloaded the BJIFF App, please scan the QR code, download and install the App.